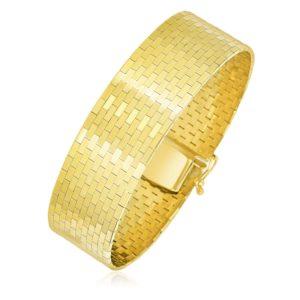 Jewelry accessorizing may seem a daunting task for many of you. Styling the jewelry with your dress in accordance with your body type and the occasion needs detailed information of the latest trends along with an innovative mind. Grooming, after all, is an art and it might not be everyone's cup of tea.
Hey! But don't you worry. Here we are with some amazing and exceptional jewelry style tips to complement your look and let you bang by putting your fashionable self forward. So, here we go….
Create layers—Whether it is rings, bangles, or necklace, try having fun by experimenting with the look. Layer it up with these jewelry pieces.

You can mix, stack or match rings in all ways of attractive combinations.

Different pieces of bracelets and bangles can be used to create an exuberant and flashing impact.

You can even try layering necklaces of varying lengths to invite all eyes to your face. Create a treat by using necklaces of different colors, textures, and shapes.

The same goes for earrings too to have a stunning appearance on special occasions. Stacking and layering are quite simple. It only requires your creativity to leave everyone around spellbound with your style. 
Earrings reveal your personality—Do you know that the earrings you choose to wear say a lot about the kind of person you are?
Yes, that's true. So, pick earrings to complement your skin tone, hair, and eye color

Moreover, your selection of earrings should focus to frame your face

Silver dangling earrings gel well with long stick hair while medium-sized earrings, usually in silver, are ideal for those having short hair.
Mix metals—Love to experiment by mixing different metals? Go ahead. Dual tones are ethereal as they add a fascinating pop to your dress. The good thing is that you don't have to stick to all gold jewelry or silver jewelry. Play with your imagination to rock in style.
Outfit or jewelry? —Decide what you would love to focus on, your outfit or jewelry? When wearing fancy attire, go for minimalist and subdued jewelry.

However, you can add an instant dash of style and elegance to a simple and routine outfit by complementing it with any pure silver jewelry piece.
Break the trend, make new—Are you a trend follower? Now is the time to ditch the trends to carve your distinct and individual style.

After all, you must reflect on your own personality rather than simply becoming a fashion slave.

So, explore what you love by experimenting with your personal likes and tastes to be the real 'you'.
Rings are forever—When it comes to rings, you can never run short of ideas.

Go and play with different colors, metals, and shapes to explore the versatile possibilities of wearing rings.

Whether it is stackable rings, statement cocktail rings, subtle rings, or any other ring, you can ring in with your own style.
Discover your signature style—Jewelry has the power to revamp your outfit and your feelings.

Find jewelry you connect with and love to wear more often. Such pieces can uplift a simple outfit and exhibit your persistent style by experimenting with your appearance. These can be a single piece of jewelry (like a statement piece) or a happy mix of several pieces that blend together.

For example, your signature style could comprise of antique & classic gold rings paired together along with big bracelets and a single pendant.
You are the queen and you don't need to follow any fashion rules. Go for the jewelry that brings out the best in you. 
Rock with Your Unique Style to be Confident, Comfortable, and Graceful!!!
Do you want to know the most in demand fall engagement rings for proposal in 2020? Why not? With autumn already nearing around, the time is ripe for the onset of the festive engagement season. And if you, too, are planning to take your vows in the summer or spring, you can't wait to exchange your engagement rings in the comfy and cheerful months of fall and winter.
Choosing an engagement ring can prove to be taxing especially if you don't know the ins and outs of the latest trends. With a range of factors to be taken into consideration including gemstones, shape of stones, setting styles and of course, your taste and budget, your choices could make you feel surprised and confused.
If you are still hunting for a perfect style for your D-day, here is our guide to the most famous engagement styles of fall this year. Browse through the emerging and reigning engagement rind trends ranging from the enchanting art deco-inspired designs to dazzling repurposing heirlooms.
Here is a glimpse of the latest and top trending engagement rings this year.
Top reigning engagement ring trends in 2020–
Two-Tone—Two-one engagement rings are busy creating a buzz everywhere. The best thing about choosing a two-tone ring is that you can mix metals of your ring as and when you like to.
In the words of a renowned designed Ashley Zhang, "so as trends or your tastes change over time your ring will easily look great with either all yellow gold jewelry, all-white metal jewelry, or a mix. I also love mixing metals in a wedding band stack for some added interest!"
Engagement & Anniversary Rings
14k Two Tone Gold Split Shank Style Diamond Engagement Ring (1 1/…
Signet Styles—Signet engagement rings are the latest entrant in the world of fashion. They have popped up with an added contemporary look to them. As per fine jewelry designer Lizzie Mandler, "Signet rings have a long and rich history in jewelry and were always geared towards men, but gypsy rings — which are rings that feature a stone or stones set into a band that runs flush with the metal — were traditionally for both men and women".
They are, for sure, the most hot-and-happening trend to be followed by modern brides and brides-to-be in 2020. Also known as gypsy rings, the dainty signet rings often feature in the fine jewelry brands for their exuberance accompanied by affordability.
Heirloom—Want to update the phenomenon cherished engagement ring by incorporating something unique and bold? Opt for heirloom-style engagement ring using your family stones to express your relationship. Heirloom engagement rings are for those who admire and treasure the worth of remodeling and durability.
"I think nostalgia has definitely played a big part in why couples are so intrigued by repurposing during this time. It's nostalgia mixed with awareness, and couples, now more than ever, are appreciating the value of repurposing and sustainability. Because of this, I think we'll see a trend of heirloom engagement rings, using family stones", says Jonne Amaya, a Los-Angeles based custom fine jewelry creator.
Black Diamonds—Black diamond engagement rings are in vogue once again since their launch way back in 2011. They are trending like never before. See what Anna Sheffield has to say about these black in-thing solitaires. "I love the way these stones look paired with white diamonds as a complement, like in a three or five stone ring or even just a solitaire with delicate pave on the band", she states.
Fancy cuts and large stones—For those who love to exhibit their modern yet unique persona, fancy cut diamonds are the best bet. These classic and timeless splendors are a rage for engagement rings for their stupendous diamonds in exceptional bespoke settings.
Oval Rings—Want to know the reigning style of the year? Any guesses? It is oval rings, the stone style that has burst into the limelight. And the credit for this must go to Jourdan Dunn, a famous supermodel. Since her first pic with her engagement ring this year, the fashion kingdom is rife with the supremacy of her oval-cut ring having a pink undertoned-diamond at the center of a diamond pave band.
Thelma West—"Post-COVID, we are seeing a trend for engagement rings with beautiful diamonds in unique bespoke settings. There is a greater importance on the gem and its ability to hold value so that it's not only a symbol of romance and love, but also a solid investment. Couples will go for spectacular shaped diamonds to reflect their personality and style; a curvier pear diamond, elongated ovals, or shield cut.
Oval Engagement Ring
When it comes to choosing an engagement ring, the matchless beauty and illustrative meaning of a ring, whether it is in solid gold, magnificent diamond, eclectic silver, or a curious fusion of any of these, says it all.