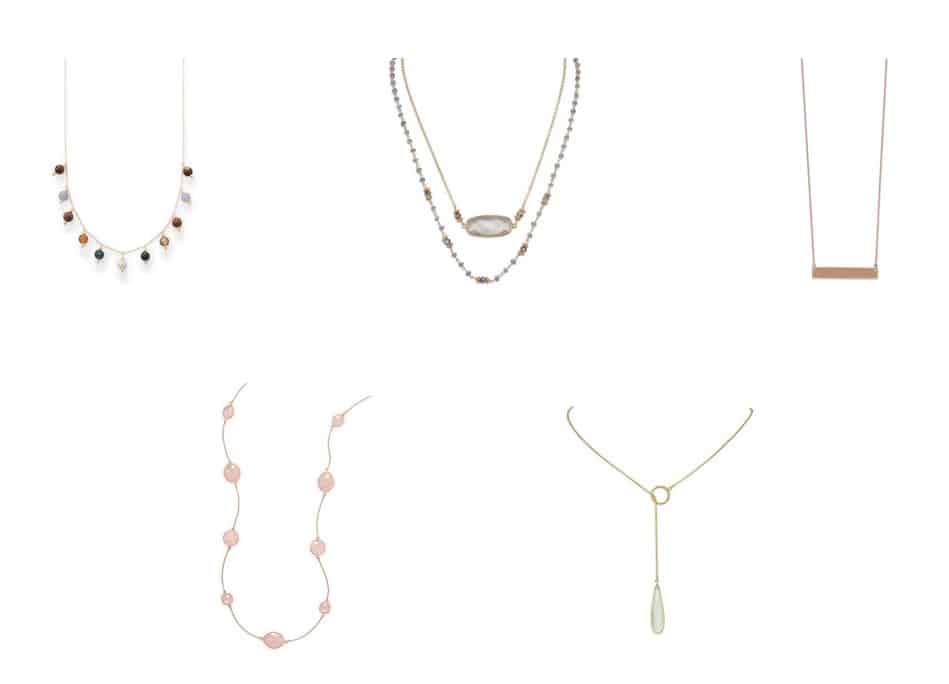 Have you ever wondered why we never miss out on a necklace someone is wearing?
Because the neck is the most highlighted part and a beautiful necklace makes it 100 times more noticeable than other jewelry. However, this is true that fashion accessories like bangles, earrings, rings, and necklaces add loads of oomph to your overall personality. This is why, we are presenting you some most popular necklace styles of 2022 which are suitable for any season, or occasion and seamlessly transition from spring through winter.
Types Of Necklaces You Must Have
It is not easy to choose among the different types and designs of necklaces because there isn't just one necklace that will be perfect for you. You should not limit yourself to wearing the same necklace for everyday occasions. You must have 4-5 types of necklaces or maybe a few extra pendants in your collection. Here are 5 top and trendy necklaces available on finejewelryandgemstone.com you can wear them on every occasion and each one will play a big role in how you feel and look.
Silver Circle Choker Necklace
Typically, a circle choker is 15-16 inches long and worn close to the neck. Thus, the silver circle choker offers simple and easy elegance and unexpected versatility, effortlessly transitioning from dressy to casual with a surprising air of everyday wear. Silver circle chokers look absolutely stunning on formal gowns or white shirts or denim jeans.
Lariat necklaces are long and looped through a decorative pendant or element instead of the usual clasp closure. Thus, the perfect Heart Lariat Necklace to adorn your neck available on our site is 14 karats yellow gold weight 18″ polished with 2.4 gms. It is an exciting piece to have in your collection because it is readily adjustable and can suit different necklines.
Round Gold Locket Designs
It has a smooth surface and slightly organic form which artistically appeals to expertly crafted open round gold lockets. It's highly polished gold that delights the eyes while the center aperture provides interest. It is suspended from a moveable bail and the 18 inches box chain includes 14-karat yellow Gold.
Silver Dangle Drop Necklace
It is a 14-karat gold plated sterling silver cable chain necklace that is attached to the wire on the back of the black onyx dangling cable chain that's great a fringe effect. Silver Dangle Drop Necklace has a lobster clasp closure.
Silver Multi-Stone Necklace 
Gemstones are eye-catching colorful jewelry. Silver multi-stone Necklace with freeform faceted black onyx, green onyx, amethyst, blue chalcedony, and labradorite with 22.5 sterling silver chain. It also has a lobster clasp closure. They are versatile enough to be worn to work, a party, or a formal function, making them a must-have in your wardrobe.
When wearing a necklace, keep in mind that there are more than five different kinds. Each one is a fashion statement and is frequently chosen due to personal tastes. However these designer Necklaces are not just pieces of fashion accessories, this has great potential to boost your overall personality of you.
Finejewelryandgemstones.com offers many varieties for various styles. The experts have made every effort to guarantee that you may discover a necklace to suit your taste. They have also made necklaces out of various metals, some with valuable stones. You won't have to spend a long time looking for the ones you want to add to your collection. No more worrying about not having the correct one to match your outfit or for an event! Thus, go and visit the website finejewelryandgemstones.com and seize the best designer necklace today for yourself. 
Also Read: Top Designer Jewelry To Must Have In Your Collection